Transportation District Commission of Hampton Roads
Executive Committee
The Commission has an Executive Committee that is comprised of all the chairs of the standing committees, although any commission member is free to attend. The committee works with the President and CEO to coordinate Commission operations and all functional committees. It meets on an ad hoc basis.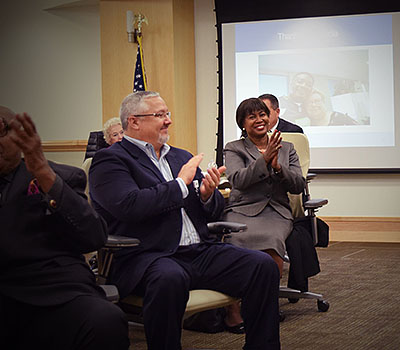 Public Comment
Public comments can be made in person at the commission meetings OR via our online form.
For questions about the board's schedule or agenda, please contact:
Luis Ramos – (757) 222-6159.
Commission Members
Hon. Amelia Ross-Hammond (Chair), Virginia Beach
Hon. Aaron Rouse (Chair), Virginia Beach
Hon. Patricia P. Woodbury (Vice-Chair), Newport News
Hon. Andria McClellan (Past Chair), Norfolk
Hon. Jimmy Gray, Hampton
Hon. Shannon E. Glover, Portsmouth
Hon. Don Carey, Chesapeake
Hon. Lionell Spruill, Sr., Senator
Commissioner August B. Bullock, Newport News
Commissioner Brad Hunter, Portsmouth
Commissioner Roland White, Hampton
Commissioner Stephens Johnson, Chesapeake
Commissioner Kirk T. Houston, Norfolk
Jennifer DeBruhl, VDRPT*
Mike Mucha, VDRPT* Alternate
Commissioner Neil Sherman, VDRPT* Alternate
* The Virginia Department of Rail and Public Transportation (VDRPT) is an agency of the Virginia Commonwealth Transportation Board.
Upcoming Meetings
Past Meetings