VB Wave & Bayfront Shuttle
Hampton Roads Transit's VB Wave trolley and Bayfront shuttle services are an easy way to get around the Virginia Beach Oceanfront, Rudee Inlet or even reach First Landing State Park along the Chesapeake Bay to walk the trails.
Hop aboard, kick back and let us do the driving.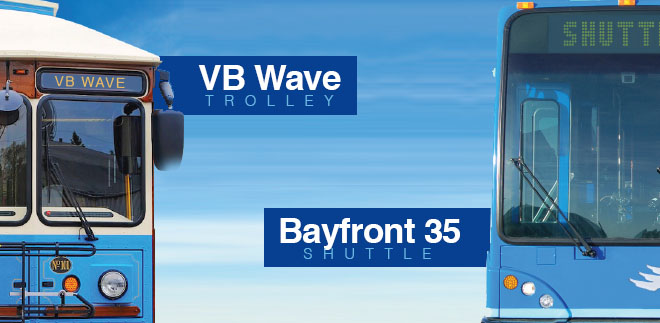 Route 30, Atlantic Avenue Trolley
Ride the VB Wave trolley from one end of Atlantic Avenue to the other. Stop along the way at shops, restaurants, museums and more.
May – Sept, 8:00 a.m. until 2:00 a.m.
Daily about every 15 minutes.
Route 31, Aquarium and Campground Trolley
Ride the VB Wave trolley south to campgrounds and tennis courts, fun parks, and to the Virginia Aquarium and Marine Science Center. Catch the Atlantic Avenue trolley (Route 30) for points north. Aquarium and Ocean Breeze serviced during operating hours only.
May 20 – Labor Day, 9:30 a.m. until 11:10 p.m.
Daily about every 20 minutes.
Route 35, Bayfront Shuttle
Ride the Bayfront shuttle to First Landing State Park, North End beaches, and all the wonderful bayfront restaurants on Shore Drive.
The Bayfront shuttle serves the same locations as last year, and now connects to Routes 1, 22, 27 and 29 at Pleasure House. The service to Rudee Inlet allows visitors to skip the challenge of summer driving and parking, while still enjoying the marinas, amazing seafood restaurants, and variety of aquatic adventures.
May 20 – Labor Day, 8:00 a.m. until Midnight.
Daily every 30 minutes.
Sept 7 – Sept 30 every 30 minutes.
Fri-Sat-Sun, 8:00 a.m. until Midnight.