Hampton Roads Transit makes it easy for people to get around Hampton Roads using bus, light rail and ferry. Learn more about our services that you can use to get to work, school, shopping and entertainment. All of HRT's modes of transportation are ADA accessible in accordance with the DOT's Title 49 Part 39 §39.3 and §39.91.
Bus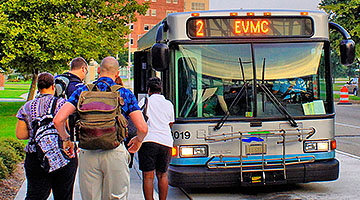 Hampton Roads Transit provides bus service throughout the year as well as a trolley service (VB Wave) on the Virginia Beach oceanfront during the summer season. Hampton Roads Transit provided more than 14 million passenger trips in 2017, and currently serves passengers via 72 routes. See all bus routes.
In addition, HRT operates the following bus services:
Light Rail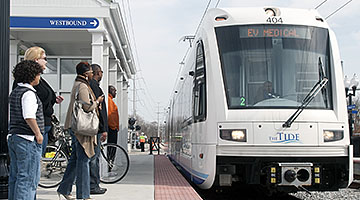 The Tide is Virginia's first light rail system.
Opened for service in Norfolk on August 19, 2011, The Tide extends 7.4 miles from the Eastern Virginia Medical Center complex east through downtown Norfolk and adjacent to I-264 to Newtown Road.
See the light rail stations, and bus connections. Station schedules are available on the Routes page.
Eleven stations provide access to dining, shopping and entertainment as well as the Norfolk State University and Tidewater Community College (Norfolk) campuses.
There are five park-and-ride lots where parking is always free.
Ferry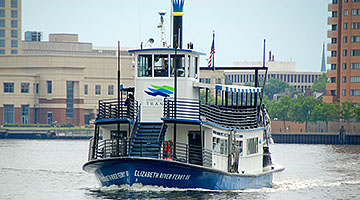 Hampton Roads Transit operates three 150-passenger ferries on the Elizabeth River between Norfolk and Portsmouth. They're fast, economical and offer a unique view of the waterfront. See the ferry route.
Ferries operate every 30 minutes with 15-minute service during the summer at peak times on weekends. Schedules are subject to change based on operating situations (weather, mechanical problems, etc.). The ferry is wheelchair accessible and allows boarding passengers to walk on with their bicycles.
"Does the ferry service Harbor Park?"
Yes! Whenever the Norfolk Tides play a home game at Harbor Park, the ferry will run between North Landing in Portsmouth and Harbor Park. Service runs every 30 minutes beginning one hour before game time and keeps running until just after the game ends! Check the Harbor Park game schedule.
Bus Bridge Locations
During regular service hours when the Elizabeth River Ferry is unexpectedly taken out of service, a bus bridge will be available for customers. Bus service will occur every 20-25 minutes based on traffic conditions. Buses will be noted as "Shuttle" in the destination signage on the front of the bus.
VB Wave
Hampton Roads Transit's VB Wave trolley and Bayfront shuttle services are an easy way to get around the Virginia Beach Oceanfront, Rudee Inlet, even reaching First Landing State Park along the Chesapeake Bay to walk the trails. Hop aboard, and let us do the driving.
Paratransit
For the comfort and convenience of our certified customers with disabilities, Hampton Roads Transit provides an origin-to-destination service. Find out about Paratransit service.
TRAFFIX
Sign up for the Guaranteed Ride Program, a service provided by the TRAFFIX division of Hampton Roads Transit. This program provides a reliable ride back to your point-of-origin in case you have to work late, leave early, or have an emergency and are unable to catch the MAX. Some restrictions may apply.