SOURCE: Hampton Roads Transit, November 2022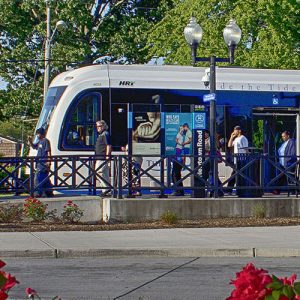 One of the nation's leading advocates for rail safety has awarded Hampton Roads Transit a $20,000 grant to help promote light rail safety awareness and education in Downtown Norfolk and along the rail alignment.
HRT was one of eight agencies nationwide that Operation Lifesaver, Inc. signaled out to help share messages of safety around rail operations. The grant was competitive nationwide. HRT will promote safety awareness messages with signs, train wraps, digital media campaigns, giveaways, and through community meetings.
"HRT operates one of the safest light rail systems in the country with a record of no serious injuries in the more than 10 years The Tide has been in service. We share an unwavering commitment to safety in all aspects of our rail operation. This grant will help us continue this work. We are thrilled to receive it."

— William Harrell, President and CEO of Hampton Roads Transit.
Specifically, HRT plans to perform outreach to construction contractors working on new residences on Front Street and to existing residents behind the Brambleton Avenue area that borders the tracks including The Roebuck, The Lofts at Front Street, the Harbor's Edge retirement community, and Riverview Lofts.
The outreach also will be aimed at businesses in the same area to include People for the Ethical Treatment of Animals, the American Red Cross, the Norfolk Health Department, and the US Army Corps of Engineers.
In addition, HRT will wrap a light rail train with a safety message and use sidewalk "clings" to alert pedestrians of the importance of being aware around light rail trains. HRT also will put new safety posters up at all train stations.