Ferry Docks Scheduled For Reconstruction
The docks for the Elizabeth River ferry are typically an afterthought for people traveling between Portsmouth and Norfolk. The existing decking, worn by years of foot traffic, is occasionally replaced, but the general appearance of the docks has not changed much in the many years of service to the region.
That's about to change.
Underneath the composite and yellow pine deck planking lies a different story. Years of decay, countless storms and tidal changes have taken their toll on the structural components of the four main docks that comprise the ferry system, and they are now ready for replacement.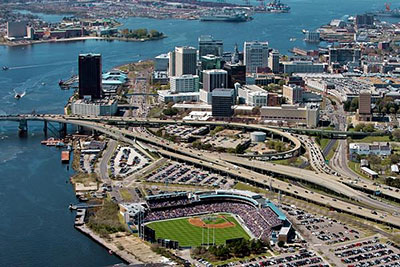 In December, the first of these major dock reconstruction projects began at Harbor Park, when the gangway truss was removed from its moorings and taken to a nearby shipyard for refurbishment. Workers turned their attention to the gangway support bearing with plans to restore it. Once completed, the loading platform float will be reinstalled.
While this work is extensive, workers plan to complete the job in time for the 2020 Tides baseball season.
The High Street dock in Portsmouth will close for approximately two weeks starting Monday, Jan. 27. Customers must use the North Landing dock while High Street is closed. Norfolk's Waterside dock is scheduled for closure in February and is scheduled to reopen in March. Portsmouth's North Landing dock will close in March and April when customers will use the High Street dock which will be open by then. Customer Alerts will announce exact dates. All docks will be open and ready for use in time for the summer season.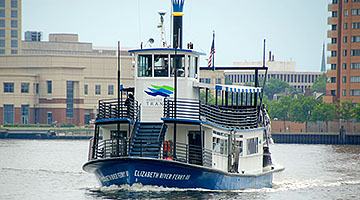 The dock reconstruction project also will address an issue that arose when the new ferries were being designed and purchased. HRT's old ferries had one door on the port side, but the new boats have two, allowing faster boarding and alighting. But with docks designed for the single door boats, ferry customers cannot fully take advantage of the new boat design. The rebuilt docks will change that.
In addition to improved access, the new docks in Portsmouth will sit slightly higher in the water and thus reduce the incline of the ramps that link the docks to the boats. This is being done to ensure the docks meet standards of the Americans with Disabilities Act.
Ferry dock work — especially at Portsmouth and Waterside — will be phased with just one out of service at a time. This will allow for uninterrupted ferry service, although some temporary detours will be necessary during the construction.
Look for new docks across the system by this spring.