Project Overview & Background
Naval Station Norfolk Transit Corridor Project (NSNTCP) has been exploring this idea.

Hampton Roads Transit (HRT), the City of Norfolk, and the Hampton Roads region have identified a need for high-capacity transit serving Naval Station Norfolk. The

A feasibility study began in 2019. As of Summer 2022, the study recommended two implementation strategies for high-capacity transit. The first phase would extend The Tide for two miles to serve the Military Circle Mall Redevelopment Area. The second phase would establish a Bus Rapid Transit (BRT) route from the new end-of-line station for The Tide to the Navy base.

The graphic below is an illustration of the history of rapid transit corridor studies to NSN.

History of Rapid Transit Studies to NSN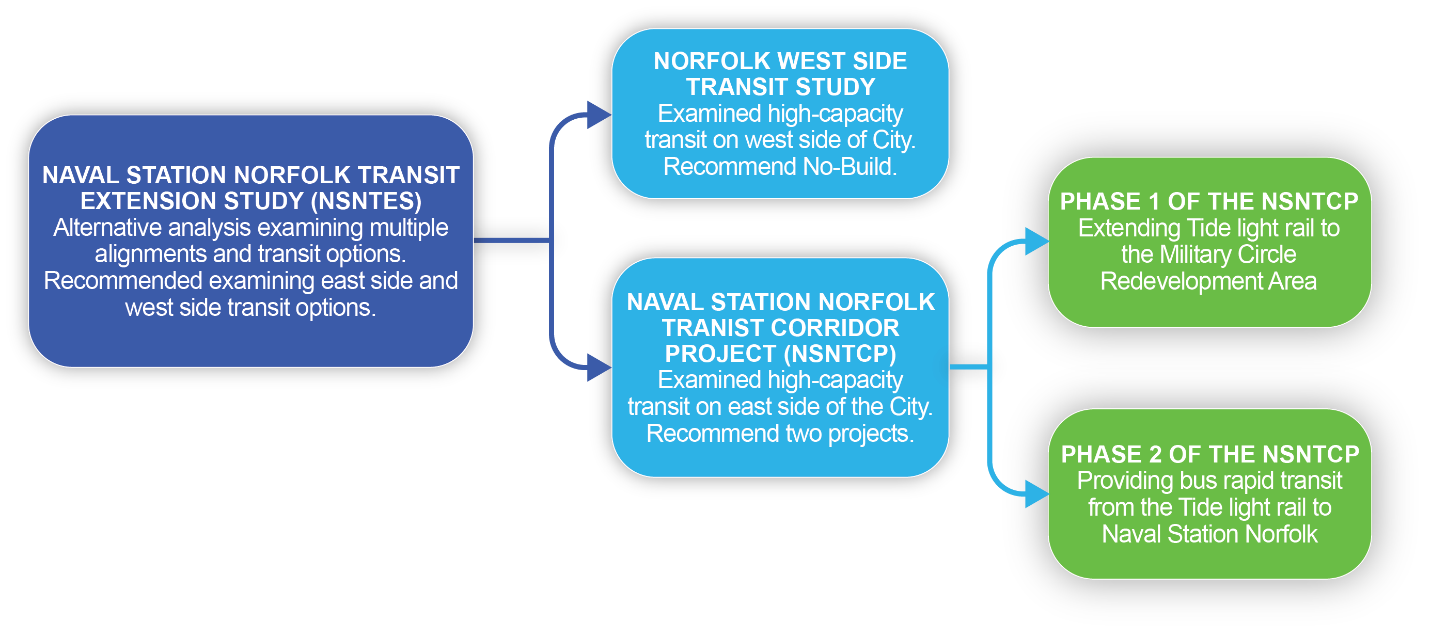 Phase 1 proposes to extend The Tide from its current Newtown Road station north to Sentara Leigh Hospital and the Military Circle Mall Redevelopment Area. The timing of Phase 1 will complement the City of Norfolk's redevelopment plans for the Military Circle Mall. The proposed extension would run for two miles on two tracks and would have two new stations serving the Sentara Leigh Hospital complex and the Military Circle Redevelopment Area.
The Federal Transit Administration (FTA) and HRT are preparing an Environmental Assessment (EA) for Phase 1, because HRT expects to seek federal funding for the construction of the project. HRT must prepare an EA as required under the National Environmental Policy Act (NEPA) of 1969.
Public input is essential for the success of the project. Extensive community outreach will ensure the public is informed while also helping HRT gather valuable feedback. Multiple in-person meetings with study area stakeholders, residents, and area businesses will be held along the project corridor.
We anticipate concluding the EA and holding a series of public information meetings sometime in Winter 2023. HRT will also need to brief Norfolk City Council and obtain their concurrence and approval for the recommended project.