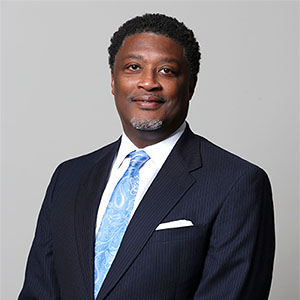 William E. Harrell is the president and CEO.
Mr. Harrell has led HRT on a mission to connect Hampton Roads with transportation solutions that are reliable, safe, efficient, and sustainable, in keeping with the agency's vision of reshaping itself into a progressive mobility agency that promotes prosperity across Hampton Roads through collaboration and teamwork.
Under Harrell's leadership, the agency secured the first ever regional funding source of dedicated revenue created by the Virginia General Assembly in 2020. He has spearheaded cost containment and improved efficiency. These efforts lie at the heart of improving the overall customer experience because a healthy, well-run agency will have the resources to invest in a sustainable future.
He often says, "While you may not ride public transportation, chances are you depend on someone who does."
Harrell's current undertaking is developing and implementing the 757 Express – a network of 13 express local and regional bus routes that will offer 15-minute service frequency and a consistent service day for the region.
Harrell came to HRT from the City of Chesapeake, Virginia's second largest city, where he was city manager. Harrell oversaw the day-to-day operations of an operating budget of more than $900 million and over 4,000 employees. Harrell is formerly a Credentialed Manager with the International City/County Management Association. With over 35 years in public service, he has served in various leadership roles including chief administrative officer in Richmond, Virginia, and assistant city manager in Greensboro, North Carolina, and Suffolk, Virginia.
Harrell served as a board member of Rail-Volution, a national organization committed to building livable communities with transit. He is the Treasurer of the Virginia Transit Association, an active member of the American Public Transportation Association and a regional board member of the Hampton Roads Chamber of Commerce. He has been selected for many years as a longtime community leader on the Inside Business Power List and continues to be an influencer in shaping the future of transportation in Hampton Roads.
Harrell earned his bachelor's and master's degrees in urban and regional planning from the University of Virginia. Additionally, he earned a second Master's in public administration from the university. He and his wife, Dr. Johnna Carson Harrell, reside in Chesapeake.
He was appointed in April 2012.