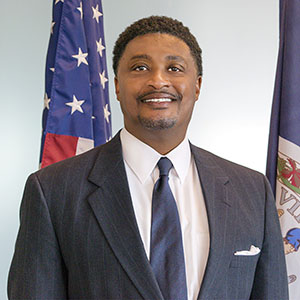 William E. Harrell is the president and CEO of Hampton Roads Transit.
Following his appointment in April 2012, Harrell established a vision to reshape HRT into the most efficient and customer-driven transit agency in Virginia.
The focus from the beginning has been to improve HRT's finances. Under Harrell's leadership, HRT has embarked on an aggressive plan to restore the agency's capital budgets as the basis for improving an aging bus fleet. He has pushed hard for cost containment and improved efficiency. These efforts lie at the heart of improving the overall customer experience because a healthy, well-run agency will have the resources to invest in its future. In February 2014, he successfully guided HRT to winning approval from the agency's governing body for the first basic fare increase in the agency's history.
Harrell believes the foundation of a viable transit system that supports the regional economy and quality of life will require a dedicated funding stream. This will ensure frequent and reliable service to key destinations. In this regard, he has initiated a community conversation on this important topic called Connect Hampton Roads and is advocating for a high frequency core regional network to expand economic opportunity and diversification.
Harrell came to HRT from the city of Chesapeake, Virginia, where he was a city manager. Harrell oversaw the day-to-day operations of Virginia's third largest city, an operating budget of more than $900 million, and more than 4,000 full and part-time employees. Harrell is also a Credentialed Manager with the International City/County Management Association.
With over 32 years in public service, Harrell has served in various leadership roles including chief administrative officer in Richmond, Virginia, assistant city manager in Greensboro, North Carolina and Suffolk, Virginia.
Harrell is a Board member of Rail-Volution, a national organization committed to building livable communities with transit. He is the Treasurer of the Virginia Transit Association, an active member of the American Public Transportation Association and a regional board member of the Hampton Roads Chamber of Commerce.
Harrell earned his Bachelor's and Master's degrees in urban and regional planning from the University of Virginia. Additionally, he earned a second Master's in public administration from the University.