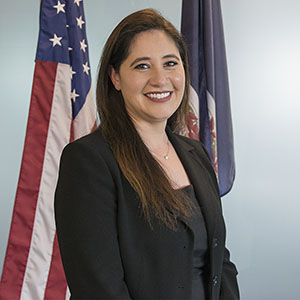 Sibyl Pappas is HRT's Chief Engineering and Facilities Officer. The mission of Engineering & Facilities is to affect a high-quality agency-wide infrastructure that is safe, functional, attractive, sustainable, and sensitive to the needs of our customers. Departments reporting directly to the Chief Engineering and Facilities Officer include: Facilities Maintenance; Engineering, Design and Construction; Environmental Compliance and Sustainability, and the Office of Project Management.
Pappas has over 20 years of experience developing, leading and managing environmental and civil engineering projects for municipal, private and federal clients. During her tenure at HRT, Pappas has directed 17 construction and engineering projects totaling $106,270,000 dollars.
As a signatory on the APTA Sustainability Commitment, Pappas has enhanced HRT's Environmental Compliance and Sustainability effort including an EMS that is ISO 14001 conformant, a LEED Gold campus, Virginia Environmental Excellence Program award established to encourage superior environmental performance and recipient of eleven HRSD environmental compliance Gold Awards and three HRSD Silver Awards.
Her HRT experience includes the replacement of the century old Norfolk campus originally built to maintain trolley cars, from its inception. Pappas oversaw the needs assessment, final design, engineering, and construction of the 279,129-square foot Southside Operations and Maintenance Facility in Norfolk. This 9.8-acre LEED Gold campus is comprised of an 80,932 square foot bus maintenance facility, a 18,065 square foot fuel and wash facility, a 43,000 square foot administrative facility and a 137,132-square foot parking deck. The $70 million construction was completed on time and on budget.
Pappas oversaw the $10.7 million 30% preliminary engineering of the Virginia Beach Light Rail project. The study focused on the 3.5-mile extension of the Tide light rail system from its Norfolk terminus to the Virginia Beach Town Center. The Preliminary Engineering work culminated in a cost estimate of $243M.
Pappas was a founding member of the Hampton Roads Chapter of the U.S. Green Building Council. She is a 2011 graduate of CIVIC Leadership.