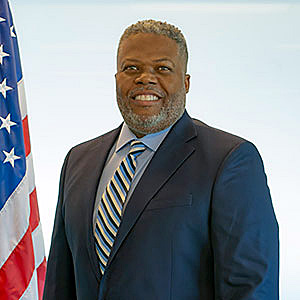 Benjamin Simms is the Chief Operating Officer for Hampton Roads Transit.
His team is responsible for the operation of bus, light rail, ferry, and paratransit services. His division also oversees the maintenance personnel assigned to the agency's different transit modes. In addition, the Operations Department oversees transit security.
Simms' career began in 1998 as a bus operator for St. Louis Metro. He rose within the organization to become manager of training for light rail operations with responsibility for classroom theory and hands-on instruction for light rail controllers, vehicle operators, vehicle maintenance and construction crews.
Simms played a key role in the development and implementation of light rail operations during two major expansions of the St. Louis system, a 17-mile expansion and another one of nine miles. Simms later became manager of contracts and permits at St. Louis working with contractor performance expectations while developing methods for monitoring performance based on QA/QC reports.
He was hired by HRT in January 2009 as director of bus and rail transportation to oversee the work of the General Superintendent, transit and training managers, and the operations support staff. Simms collaborated with the Human Resources department to develop a performance-monitoring program for absenteeism that resulted in a 49% decrease in unexcused absences and a six percent decrease in unscheduled overtime wages. He also helped establish an Accident Accountability Matrix and an Accident Refresher training that resulted in a 13.8% reduction in preventable accidents from 2013 to 2014.
Simms earned a Master's in Business Administration from Lindenwood University, St. Charles, MO, in 2008 and an undergraduate degree from the same university in 2007.