New Training Equipment Helps Keep the Fleet Running
It doesn't have a fancy name but it sure is useful.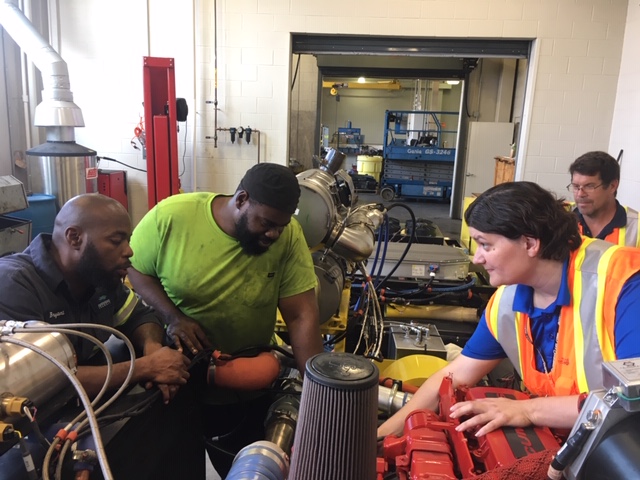 Mike Hudson, in green shirt, and Roland Bryant, listen as Tara Puckett, HRT training specialist, describes some functions of the new training sled in bus operations at 18th Street.
The Engine Training Sled is the latest tool for bus operations maintenance personnel to learn the ins and outs of working on bus transit powertrains.
The sled came to HRT through an unusual arrangement with Washington Metro which needed a place to store one of several sleds it acquired, and HRT was happy to accommodate. The sled, which is technically being "stored" at HRT, can be used without restriction.
The sled is essentially a transit bus without tires, seats, or a body. Instead, it is a teaching tool that presents all the critical mechanical components of a bus to workers who need to know how to diagnose problems and fix them.
It mirrors the 2100, 3100, 4100 series buses, plus the 4000 hybrid buses, said Tara Puckett, training specialist in operations at 18th Street.
The sled will be especially useful in diagnosing and repairing exhaust and air-pollution control equipment which often produce warning codes on the dashboard and occasionally bring buses to a halt. In fact, exhaust related codes are some of the leading maintenance problems for Operations.
Having the sled and an exhaust system that can be easily seen and worked on is a huge step forward in maintenance training because we can see what it is supposed to look like, and then tell which of the three air-pollution canisters that are part of the air pollution systems are doing.

— Tara Puckett, HRT Training Specialist
Normally, everything is hidden and tucked away on a bus, so the sled provides a clear view of the working systems and easy access for training.
"It also lets us show what codes are tied together and how one code like, say, a conversion efficiency code, could actually be something you would not think to be part of the exhaust, like a fuel injector putting out too much fuel," she said.
"Because the exhaust is so heavily monitored by the engine computer, you have to get into the engine computer to do quite a bit of the required maintenance on the system – like filter resets or doing restriction test to check what is clogged up."
Bus operations will have emission training from a Gillig representative in January.