Evelyn Butts was a seamstress from the Oakwood section of Norfolk who rose to regional prominence in the 1960s during the fight to overturn Virginia's poll tax, a fee imposed on poor, mostly black, citizens when they tried to vote. In the Jim Crow South, barriers to advancement were numerous and forcing the poor to pay money to vote was considered one of many insults against social equality. Virginia was one of 11 Southern states that had poll taxes.
In November 1963, Butts, a community activist, filed suit in U.S. District Court for the Eastern District of Virginia to have the tax declared unconstitutional as a violation of the Equal Protection Clause of the Fourteenth Amendment to the Constitution.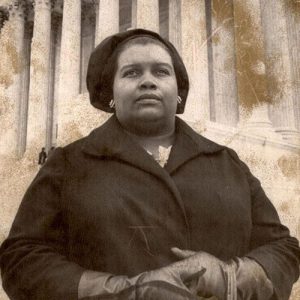 Then in March 1964, Annie E. Harper and three other African-American residents of Fairfax County, Virginia, filed suit against the Virginia State Board of Elections, also charging that the tax was unconstitutional. In May, Butts' case was dismissed for failure to prosecute it with due diligence. Her case was later combined with Harper's and in October 1964, the district court heard arguments on the complaints. The 4th U.S. Circuit Court of Appeals in Richmond ruled on November 12, 1964 that the tax was constitutional.
Butts appealed and her case, along with Harper's, was heard by the U.S. Supreme Court as Harper v. Virginia State Board of Elections. On March 24, 1966, the high court ruled 6-3 that the poll tax was unconstitutional.
Butts was born Evelyn Thomas in Norfolk in 1924, the second of five children whose father was a laborer. She was orphaned at the age of 10 and raised by an aunt, who passed on to her an interest in politics. Evelyn dropped out of school at 17 to marry Charles Butts, a disabled World War II veteran.
"She is as much responsible for the presence of minority persons in elective offices throughout this country as anyone because of her stand on the poll tax. Locally, she inspired many of us."

— Former Norfolk Vice Mayor Joseph N. Green Jr., who knew Mrs. Butts for 30 years
During her time at the Oakwood Civic League, she helped create the Rosemont Middle School in her neighborhood so that children wouldn't have to ride the bus to the segregated school. In 1960, she was involved in picketing the Be-Lo Supermarket for not employing black people in higher-level positions. She also protested African-Americans from being told to sit in certain parts of the football stadium.
Among her many accomplishments was her appointment as the first black woman commissioner to the Norfolk Redevelopment and Housing Authority in 1975. In November, the city of Norfolk named a street in her honor.
And today HRT has a transfer center named in her honor.
She died March 11, 1993.