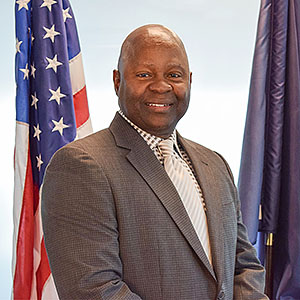 Michael Price is the Chief Information/ Chief Technology Officer of Hampton Roads Transit. He is responsible for managing the agency's technology.
A native of New Orleans, Price has more than 30 years of executive technology experience as a CIO with the Department of Employee Services and the Department of Children Services as a Vice President of Information Technology with Smart Data Systems and Tele-Fibernet.
 
Prior to HRT, Price worked at the Washington Suburban Sanitary Commission in Laurel, MD, the 8th largest water utility in the country serving over 1.8 million customers. Price operated in several roles during his time there, including chief of IT implementations, chief of IT governance, and chief of technology and mobility.
He oversaw the implementation of the procure-to-pay system, supporting over $500 million in awarded contracts and payments annually. He was responsible for the Total Enterprise Asset Management System enhancements supporting assets above and below ground, plus a mobile fleet of 1,000 vehicles.
Price holds a B.S. in Computer Science from UNO and M.S. from AIU and several IT professional certifications.