October 2019 Service Changes
Southside
Route 2 
On Sunday, no service will be provided to Fort Norfolk/EVMS Light Rail Station before 10:00 am
Route 3 
Schedule changes to improve adherence. Service to the Navy Exchange Mall (NEX) will be provided hourly Monday – Saturday.
Route 15
Run time adjustments made to improve late night connections at Military Circle.
Route 23
Added one morning outbound and inbound trip to service IKEA before 7:30 am daily. Adjusted trips to improve transfer connections at Military Circle Mall.  On Sunday, no service will be provided to Fort Norfolk/EVMS Light Rail Station before 11:00 am.
Route 24  !NEW ROUTE!
Daily service will be provided between Pembroke East and Robert Hall with a stop at Greenbrier Mall.  This route will provide service along the Witchduck and Kempsville Road corridors. Service will operate hourly Monday through Saturday, 7:00 am to 10:00 pm.  Peak period service will be provided Monday through Friday every 30-minutes, 7:00 am to 9:00 am and 4:00 pm to 6:00 pm. On Sunday, service will run hourly from 8:00 am to 7:00 pm.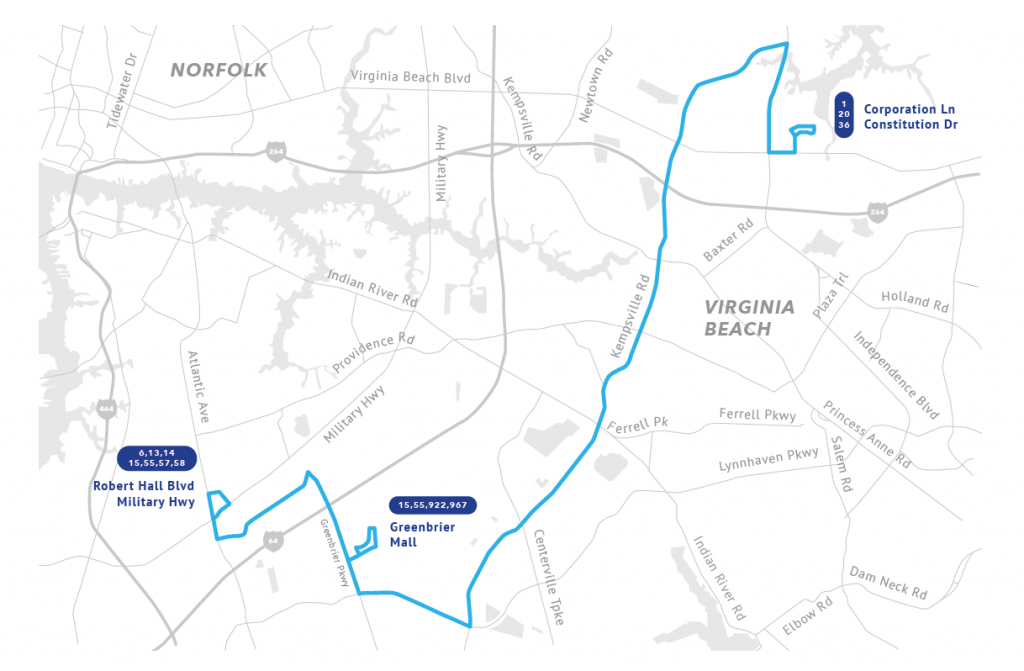 Route 25
The timepoint at Sentara Leigh Memorial Hospital will be eliminated. This is a timekeeping adjustment only, the stop(s) at Sentara Leigh will still be serviced.
Route 44
Hourly service on Sunday will be added from 7:00 am – 7:00 pm.
Route 55
Run time adjusted from Greenbrier Mall to Christina Way to improve transfer connections at Robert Hall.
Ferry (Route 90)
Schedule changes.
Northside
Route 64
The 5:15 am trip that currently departs from NNTC destined for Smithfield Packing will now depart 6th Street and Ivy Avenue at 5:00 am and NNTC at 5:12 am, arriving at Smithfield Packing at approximately 5:50 am. A new trip will depart Smithfield Packing at 5:50 am and arrive at NNTC at 6:32 am.
Route 116
The 5:45 am trip leaving Riverside Medical Center will be rerouted to serve Canon.
Route 414
The 4:51 pm trip departing Oakland Industrial Park will be adjusted and a new trip will be created from Newport News Shipyard (North Gate) to NNTC to Patrick Henry Mall via Jefferson Avenue.
MAX
Route 967
A new express trip will operate (3:40 pm) from Newport News Shipyard (North Gate) to Chesapeake Center. Stops along Washington Avenue will be serviced. This trip will not provide service to NNTC or Washington Avenue/34th Street.

Route 973
The route will be eliminated due to low ridership.

Route 974 
The route will be eliminated due to low ridership.
For more information:
View all alerts or call 757-222-6100
Para información en español, por favor llame 757-222-6100, y oprima el numero dos.
Dial 711 for TTY service provided by Virginia Relay.
Thank you for riding with Hampton Roads Transit!