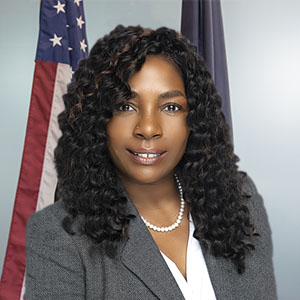 Alesia Cain is the Chief Information Officer/Chief Technology Officer (CIO/CTO) at Hampton Roads Transit (HRT). Cain oversees HRT's Technology Department including Technology Infrastructure and Network Services, Enterprise Resource Planning, Intelligent Transportation Systems (ITS), Enterprise Technology Solutions (Development, Innovation and Analytics), Technology Project Management and Information Technology (IT) Security. Cain provides leadership for the continued development of an innovative, robust, and secure information technology environment throughout the transit agency ensuring its alignment with agency and administration strategic objectives and priorities.
Cain has over 29 years of technology experience. She has been employed at HRT since 2001. Prior to assuming the role of CIO/CTO, Cain has served in several roles transitioning from Database Manager to Applications Manager to Information Technology Officer. Under Cain's strong leadership, the Technology Department achieved multiple successes in driving several major infrastructure and enterprise technology projects that have helped to improve the agencies efficiencies by introducing automation and better management of business processes.
Prior to joining HRT, Cain was a successful Engineering Database Manager at an Internet startup company in Northern Virginia, an independent consultant for the U.S. Naval Academy's Administration Department performing development on their data warehouse, and a successful Project Manager and Telecommunications Consultant stationed at the Pentagon for an Engineering firm in Northern Virginia. Cain's early career included programming, systems analysis, and system modeling on several DOD contracts.
Cain received her Bachelor of Science degree in Computer Science from the University of Maryland at College Park.