Free Paratransit Trips For Vaccinations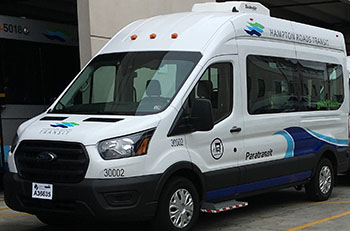 HRT is pleased to announce a Vaccination Access Transportation Program to help individuals overcome transportation barriers traveling to and from vaccination appointments. Paratransit customers will be allowed free trips to and from their vaccination appointments. All certified Paratransit customers will be allowed up to four free trips to receive their vaccines.
To use this program, please review and follow these steps:
Beginning Monday, April 12, 2021
Sign up for a free COVID-19 vaccine by calling (877) VAX-IN-VA — that's (877) 829-4682 — or by visiting www.vaccinate.virginia.gov. Additional vaccine appointments may also be available at local pharmacies through VaccineFinder.org.
Once you are registered for a vaccination appointment, call Paratransit reservations at (757) 455-8010 and tell the reservationist you are requesting a trip for your COVID vaccination.
Under this program, trips will only be scheduled to and from known vaccination locations. Please note: regular scheduling parameters still apply and only PCA's will be allowed to accompany a certified customer on these trips.
Give the reservationist the name and address of the vaccination location along with your scheduled appointment time.
Your trip will be scheduled to have you arrive at least 15 minutes prior to your appointment time.
Your return trip pickup window will be scheduled to start approximately 30 minutes after your scheduled appointment time.
Exact times may fluctuate depending on daily service demands.
If you have questions or need additional information on this program, call HRT Paratransit Administration office at (757) 222-6087. For information on fixed-route service and fares, please call HRT customer relations at (757) 222-6100.