The steady work to rebuild the Elizabeth River ferry docks is nearing completion.


At Waterside and High Street workmen have secured the final decking in place while bright, new aluminum gangways connect the docks to land. At Harbor Park, a completely rebuilt dock will soon be lowered into place with plenty of time to greet fans on opening day at Tides park.
Next in line is North Landing which will close once the final work is completed at Waterside. That is expected this month.
Docks are typically an afterthought for people traveling between Portsmouth and Norfolk. Most people just see the deck boards. They're occasionally replaced, but their general appearance has not changed much in years of service to the region.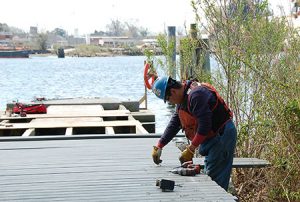 The real problems for the decks was underneath. Years of decay, countless storms and tidal changes took a toll on the structural components. Repairing them was complicated and required the skills of many contractors to cut, weld and otherwise assemble what's needed to support the deck boards.
Work began in December at Harbor Park, followed by High Street and then Waterside.
The project also addresses an issue that arose when the new ferries were being designed and purchased. HRT's old ferries had one door on the port side, but the new boats have two, allowing faster boarding and alighting. But with docks designed for the single door boats, ferry customers could not fully take advantage of the new boat design. The rebuilt docks accommodate the new ferries.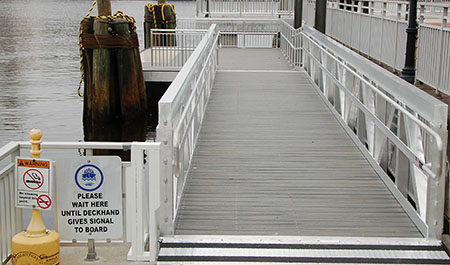 In addition to improved access, the new docks in Portsmouth sit slightly higher in the water and that reduces the incline of the ramps that link the docks to the boats. This is being done to ensure the docks meet standards of the Americans with Disabilities Act.
Now that the structural work is nearing an end, we're going to look at customer amenities to including lighting, benches and ticket vending machines for our ferry customers.
Stay tuned for those changes.