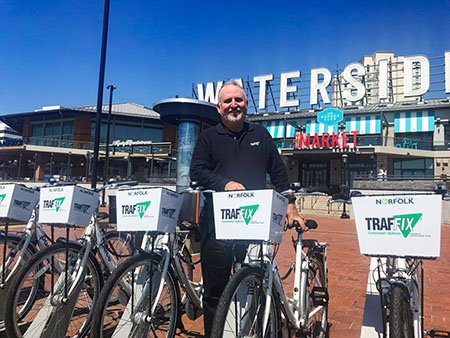 PACE bikes are back in downtown Norfolk.
The familiar white bikes with the cheerful basket up front have been overhauled to ensure they're in good working order, and the program this year has been updated to include new features.
New Features
This year there'll be 200 bikes, up from 150 last year, and 39 docking stations. Last year there were 30. Also new this year: a $2 fee for leaving bikes anywhere that's not a PACE docking station.
Users rent the bikes using a mobile app. There are now monthly and yearly plan options. The program, the first of its kind in Norfolk, was a big success during last year's inaugural deployment.
Here are some interesting facts:

The program's 200 bikes are distributed among 39 stations
Average Trip: 1.47 miles
Median Trip Duration: 19 minutes
Total Trips Taken: 45,952
Top Spots: Public House, 100 Granby, Freemason Harbor, Waterside, The Next at ODU
Men and women are evenly divided among users
70 percent of trips were taken during the weekdays
HRT's Traffix program is one of the program's sponsors including the City of Norfolk, Sentara, IPConfigure, Wells Fargo Center, and Downtown Norfolk.
HRT buses, the Elizabeth River Ferry, and The Tide light rail accommodate bikes. Six of the Pace bike racks are located near transit hubs, including one at the Downtown Norfolk Transit Center, MacArthur Square, Norfolk State University/Brambleton, Monticello Station, and Waterside District by the ferry dock.